Thanks to a grant received from Petsmart Charities, we have a fully equipped Spay/Neuter surgery room at the sanctuary. These photos show cats getting prepped for surgery as well as the actual surgeries and kitties in recovery after.




Just one of the many beautiful reasons off island vets might want to visit Maui! A whale breeching off the coastline.












Cats getting prepped for surgery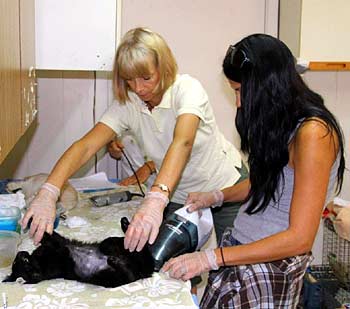 As of March 31, 2011, 9th Life Hawaii has sterilized more than 3,536 cats.
Most of the cats were sterilized in our very own surgery room, thanks to an equipment grant from PetSmart Charities. Many of our vets travel from the mainland United States and even Europe to help Maui's cats. We need vets, ALL vets, but especially those that are experienced in pediatric, high volume Spay/Neuter clinics. Call us if you want to help us humanely and compassionately control the cat population. There are tax write-offs available for traveling to Maui to hold Spay/Neuter clinics and we can provide lovely, free accommodations.
Call (808) 572-3499 so we can explain how you can help.
Dr. Tom performing surgeries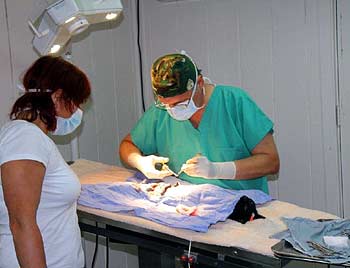 We are now providing free tattoos and microchips at $10.00 which is below our cost.
We keep a data base of our tattoo numbers and microchip numbers and work closely with the Maui Humane Society to return cats to their owners or colony caretakers. We do however recommend microchips which are a permanent and national means of identification, whereas tattoos can fade over time and are only recognized in the locale of insertion. For example, if you bring a cat to the mainland, the tattoo would not be recognized by a mainland vet, whereas Avid microchips are a national method of identification.
We strongly recommend that you safeguard your cat's life with identification.

Several of our other visiting Vets performing surgeries










Cats in recovery after altering